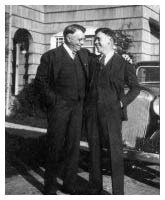 Albina Fuel started in 1903, and in 1910, Sam Arntson joined the company, starting the four generations of the Arntson family that have steered the company to the success it enjoys today.
The complete history in detail can be found in a book about the company, The Cycles of Business and Family: The History of the Albina Fuel Company. This history emphasizes the initial 25 years and gives a detailed view of Sam Arntson and his family, and the factors that motivated their lives. Information for this history was derived from company, public, and family records, and from personal interviews. Undoubtedly, there are wonderful stories from the company's 108-year experience that remain untold. It is believed, however, that the players, places, and events which best characterize Albina Fuel's development are represented in the pages of this book.
Read the Introduction, or contact us for information on obtaining a copy of the book.